Så var det dags för nästa kollektion från Make Up Store, lite rebellbetonade Punk. Med studs till naglarna, vackra marbleskugganAmarillo  i lila och turkos och massor med annat skoj.
Så här skriver Make Up Store om septembers kollektion Punk:
The Punk-girl speaks for herself, urges her drive to question authority, to rewrite the established codes, to upend the graying order, to have some fun and cause some mayhem; in short, she's a rule breaker.

The collection "Punk" is strongly coloured by Sex Pistol's "God Save the Queen" and Ramones' "Sheena Is a Punk Rocker", but our punk girl also lives very much here-and-now. But different from those around her, she seeks air in the thinning oxygen and doesn't acknowledge the stated fact "punk is dead". Instead she spikes her nails with metal, studs her cosmetics bag and uses her makeup as a political weapon, and sings with a dissonant voice:

"Hey, you may think punk is dead, you may put it in a museum, but I intend to awake it into the new world. Because in my heart I know that the spirit of punk has never been more important or necessary ever. Punk, again welcome to the end of the world: No smoking allowed."
Jag har fått det du ser på bilden, men looken innehåller också två nagellack, mörka Mika (namngett efter ägaren himself) samt ett matt topplack, en fan brush, en riktigt cool väska med nitar samt även fler microshadows och en cybershadow. Även en mascara ingår i looken. Jag tycker det ska bli jättekul att få leka med Amarillo, men jag ska också ge mig på nitarna och pärlorna. Har faktiskt ännu inte provat att göra en pärlmanikyr så det kan väl vara på tiden.
Vad tycker du om den här kollektionen jämfört med Jelly?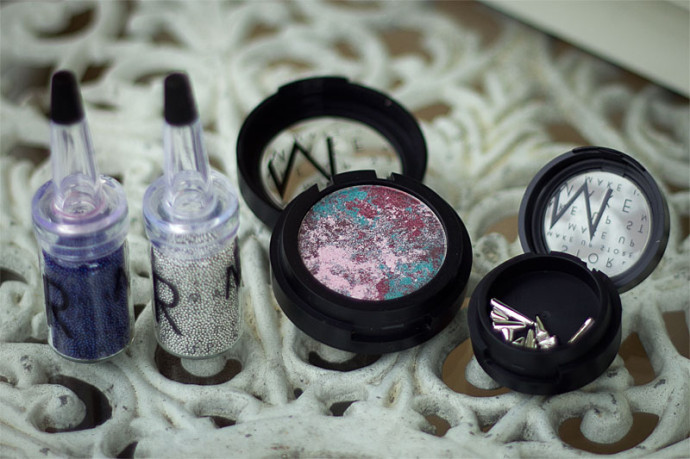 Microshadow (140 SEK)
Pollution Black (matte)
Mountain Grey (matte)
Eclipse Lime green (shimmer)
Marble eyeshadow (140 SEK)
Amarillo Marbled turquoise, pastel pink and burgundy
Cybershadow (135 SEK)
Steel Dark silver (frost)
Nailpolish (130 SEK)
Mika Black (creme)
Top coat (matte)
Nail deco caviar (95 SEK)
Nail stud (125 SEK)
Mascara (160 SEK)
Brush (85 SEK)
Bag (545 SEK)