Make Up Store Moscow Collection
Som sagt, Make Up Store har släppt en ny kollektion nu den 1e december – Moscow Collection.
Så här skriver Make Up Store själv om kollektionen:
This is the collection for the woman that cries out for excess, makeup eccentricity, and a kaleidoscopic explosion of clothes; layering, different textures, and colour.

The look is a challenge of course. A little insane. A mix and match of things that don't go together, but, in the end do. When one is bored of strict minimalism in which richness, decoration, and sensuality has virtually disappeared, "Moscow" takes you overboard, Far East to Mother Russia, and in the opposite direction.
The Moscow-woman has attitude, she knows how to wear her makeup, how to put on her jewellery. Her many layers may be similar to the famous Matryoshka dolls, but do not mistaken, there is nothing "pawny" about her. According to her terms, the more woman you can be, the better.

Inspired by the late eighties and early nineties, periods of tremendous growth for international luxury, this look will win those over who adores maximal and sexy styling. Because this woman isn't a sad idiot – she's a sexy bitch. A strong, sexy, happy bitch.
Det här är helt klart en kollektion i min smak! Älskar som ni redan vet Volga och de andra skuggorna i kollektionen är också väldigt tjusiga. Även slimlipsticket är otroligt vackert! Jag ska visa Volga imorgon i kombination med någon guldig skugga, det vore snyggt antar jag? Eller kanske Malovolence från Meow Cosmetics?
Volga, Lagoon och Dagger
Glitter Eyeliner Sparkling Brown, nagellack Melissa, Slim Lipstick Babushka samt nagelstickers Russia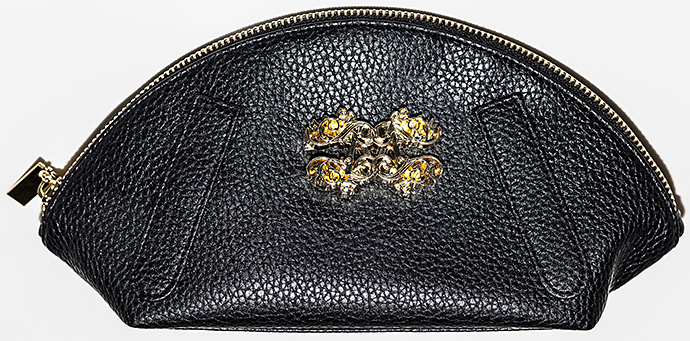 Väskan Babushka – finns i tre storlekar
Microshadow (140 SEK)
Slim lipstick (175 SEK)
Nail polish (130 SEK)
Liquid glitter eyeliner (155 SEK)
Bag – liten 165 SEK, medium – 255 SEK, tall – 295 SEK
Nail tips (95 SEK)